Comprehensive
English Support
We support you
through various channels:
focusing on comfortable, safe, and secure
banking by
accepting transactions through
these multiple channels.
Online Banking

24h/365d. Your closest SMBC Trust Bank PRESTIA branch whenever you need it.

Phone Banking

24h/365d.
You can call us wherever you are.

Global Branch

Flagship branches for English speaking customers.
GLOBAL PASS®(Multi Currencies Visa Debit with Cash Card)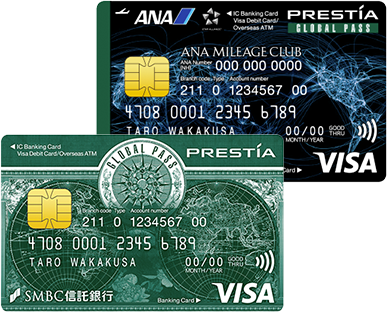 GLOBAL PASS is a cash card with Visa debit service that can be paid in 17 foreign currencies and Japanese yen for shopping and cash withdrawals. Whether you are in Japan or overseas, you can fully use this card.
GLOBAL PASS
4 Key Features
point


1

Easy and Secure shopping with tap to pay.

point


2

Use in over 200 countries and regions around the world.

point


3

With GLOBAL PASS, you can pay or withdraw directly from your foreign currency deposit in 17 currencies.

point


4

You can apply for up to
two family cards.
Convenient access
to ATMs
You can use various ATMs
with your Cash Card - GLOBAL PASS
Deposit / Withdrawals
Always FREE
Domestic transfer (Residential status only)
¥0 - ¥330
(including tax)

Deposit / Withdrawals

Withdrawals only
¥0 - ¥330
(including tax)
Housing loan
English Speaking Mortgage Experts will support you to make it yours.
PRESTIA Housing Loan
Way to your
dream home
Housing loan features

Borrow up to
500
million yen

¥0
for credit guarantee fees or surety fees

No special
add-fee
for non-Japanese
Special status to enrich
our customers' lives

PRESTIA GOLD is a special status who maintain a Total Average Monthly Relationship Balance equivalent to 10 million yen or more along with a Total Average Monthly Wealth Management Balance equivalent to 3 million yen or more.
Customers' voices
Comprehensive
English support

"Efficient and helpful service, and explanation of account was easy to understand."
"Amazing service — smooth, friendly and efficient. A banking pleasure."

Online Banking

"Good customer service. Functional online platform."
"Good online service, and cash card is accepted everywhere and easy to use."

PRESTIA Phone Banking / Global Branches

"Staff was very professional and explained everything concisely in fluent English."
"Good English speaking staff, always successful in solving problems and attentive to customers."

Housing Loan

"Very happy with the entire team that handled mortgage even for a foreigner without permanent residence."

PRESTIA GOLD

"PRESTIA Gold account is highly recommended for the ease of both domestic and overseas transfers."
Comments by 2018 customers' voices
We have special offer when you open an account through the Internet. For more details, please click below.
For inquiries, please visit our branches
or call PRESTIA Phone Banking. (24 hours/day, 365 days/year)