Foreign Currency Deposit Service, Premium Deposit available!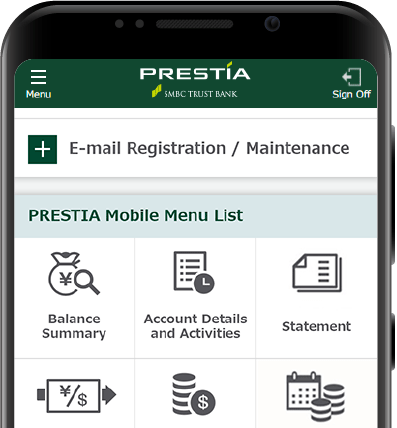 Whether you're at home or out and about, PRESTIA Mobile allows active and busy customers to make transactions 24 hours a day, 365 days a year.
You can Sign On using the same User ID and Password for PRESTIA Online.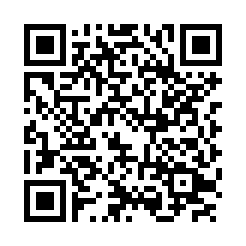 PRESTIA Mobile is convenient in the following situations:
Don't miss out your chance to make foreign currency transactions, even when you're out and about
You can carry out your transactions whenever you want, wherever you are.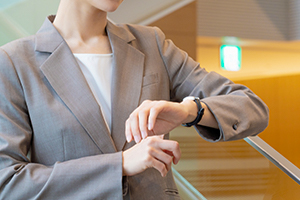 Convenient fund transfers and remittances while on the move
You can easily make transfers and remittances to registered payees.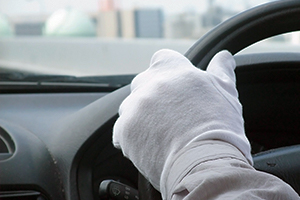 Always be on top of the status of your account
You can check your account balances and account activities at any time.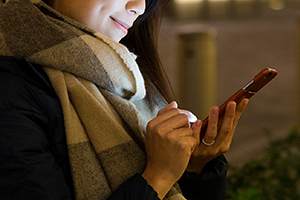 Greatly enhanced! Transactions available on PRESTIA Mobile
Foreign Currency Deposit Service
Application for Yen PRESTIA MultiMoney Foreign Currency Savings Account
Order Watch NEW!
Cross Currency Transactions NEW!
Yen/ Foreign Currency Time Deposit
Handling Before Maturity
Premium Deposit (Structured Deposit) NEW!
PRESTIA MultiMoney Credit (Overdraft secured by deposit) NEW!
Profiling(a series of questions related to asset management)
Balance Summary
Account Details and Activities
Domestic Fund Transfers
Overseas Remittance (Only to Registered Payees)
Transfers within Accounts
Buy Foreign Currency
Sell Foreign Currency
PRESTIA GOLD Special Reports
Register/Change User ID/Password
One Time Password (OTP) Service NEW!
E-mail Registration / Maintenance NEW!
Customers who want to make other kinds of transactions, such as Structured Deposits, please access PRESTIA Online.
For first time user, start today!
The User ID and Password you register for PRESTIA Online can also be used with PRESTIA Mobile. Even if this is your first time, registration is easy!
All you need is your Cash Card and Telephone Personal ID Number (T-PIN). As long as you have an SMBC Trust Bank PRESTIA's account, you can start transactions right away simply by registering for a User ID and Password. Paper application form is not required.
How to register User ID and Password
STEP 1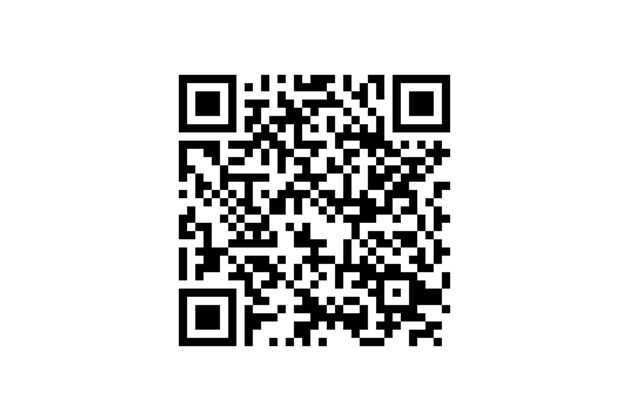 Access PRESTIA Mobile Sign On page.
*

You can also register from PRESTIA Online (Internet Banking on PC).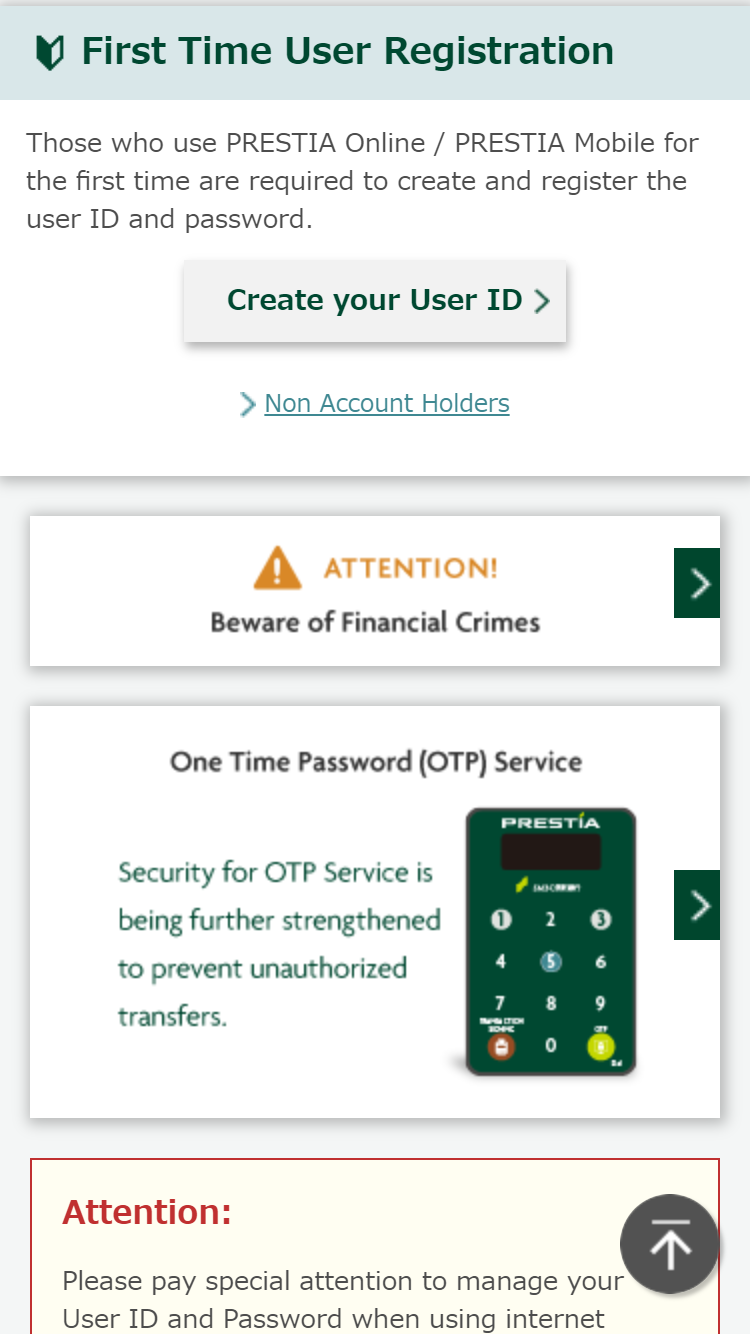 Scroll down on the screen and press "Create your User ID".
STEP 2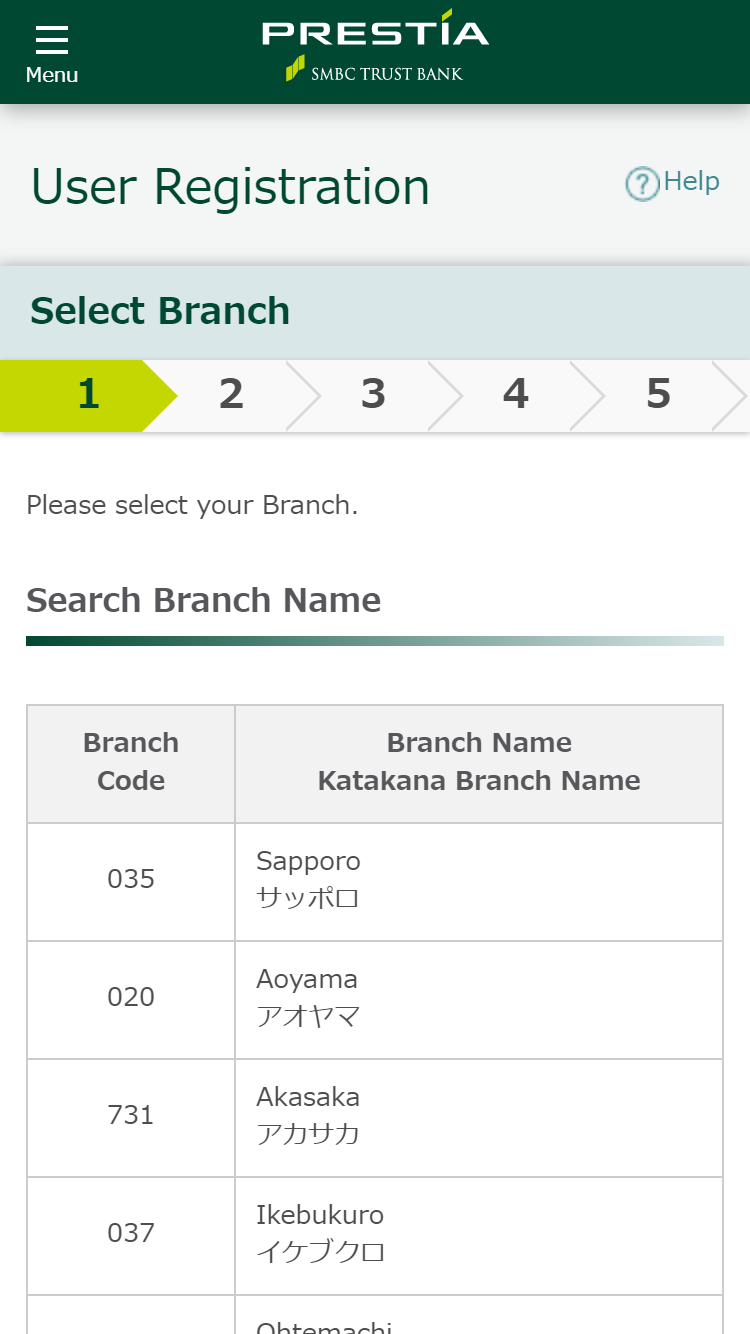 Search Branch Name
Input your Katakana Branch Name and press "Search". (You can also copy your Katakana Branch Name from Branch Name list and paste in the box.)
STEP 3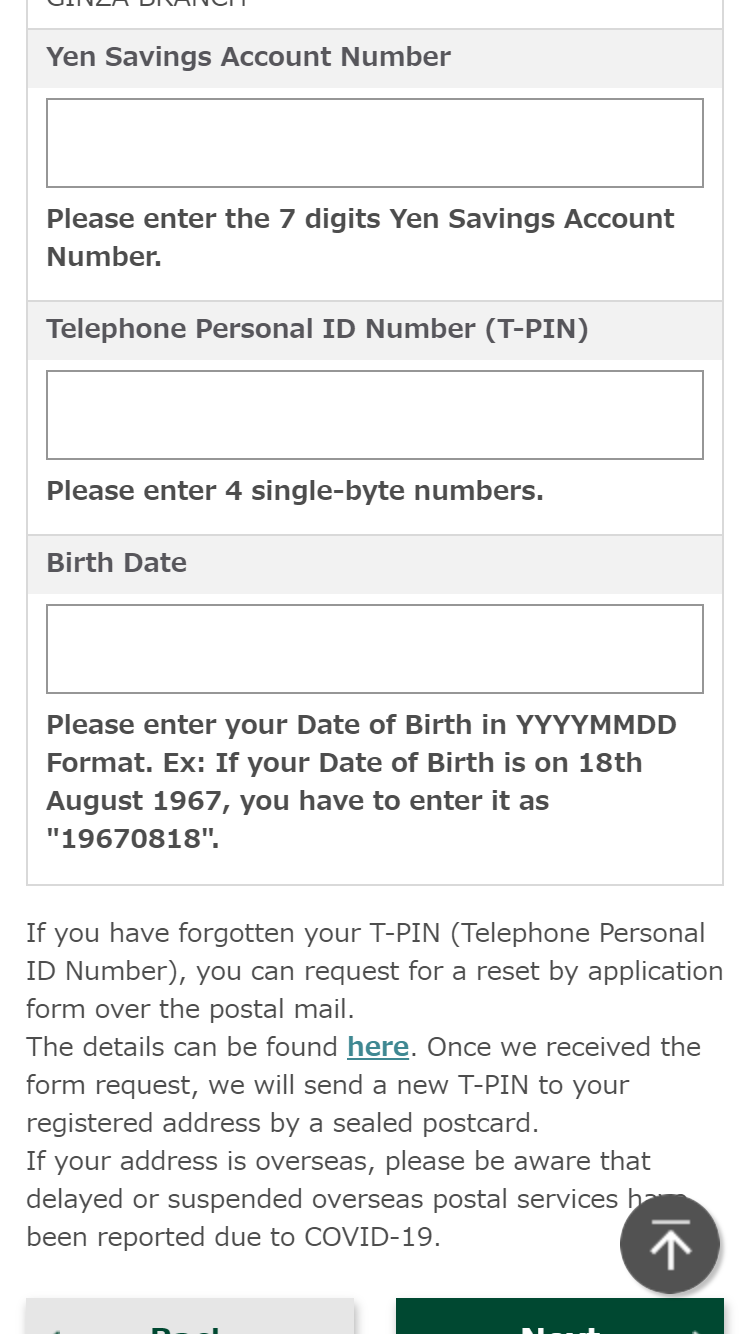 Please enter the following 3 information.
Yen Savings Account Number*1
Telephone Personal ID Number (T-PIN)*2
Birth Date
*1

Yen Savings account number is the 7 digits on your Cash Card.

*2

If you have forgotten your Telephone Personal ID Number, please contact PRESTIA Online Helpdesk below for assistance.
STEP 4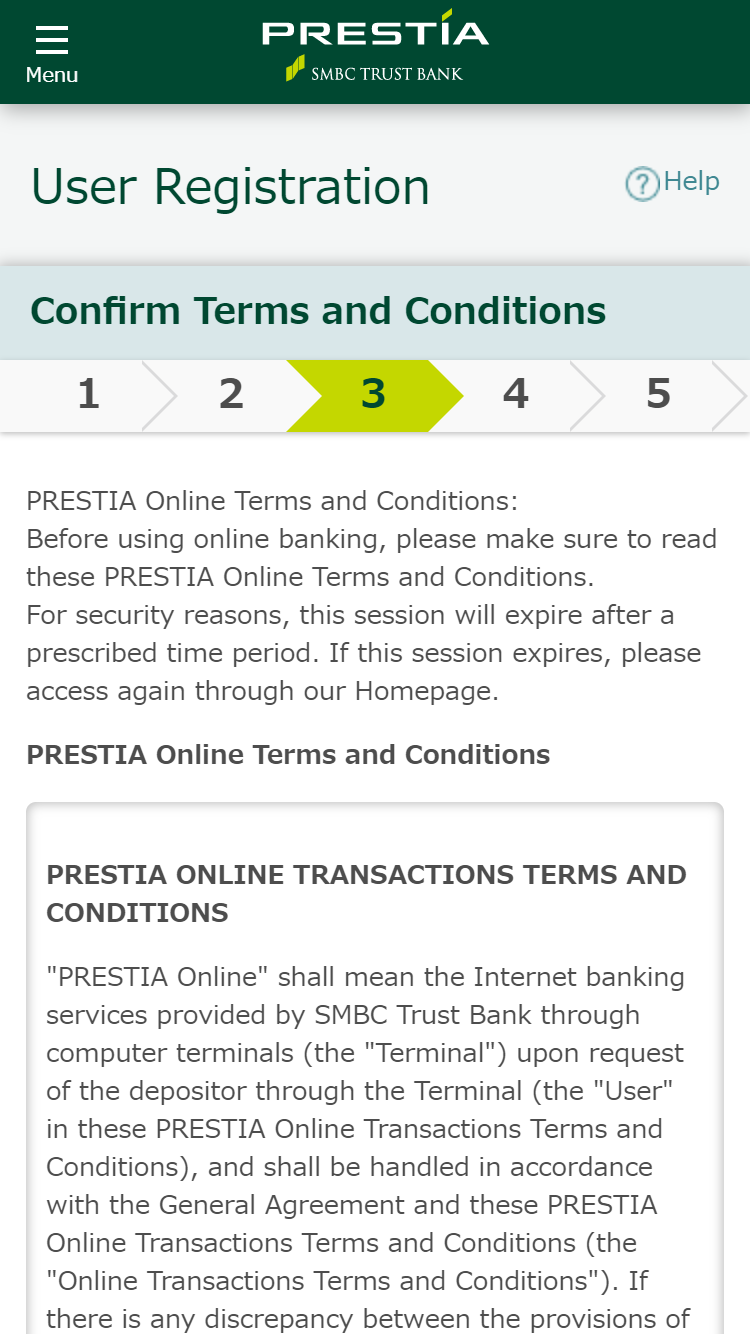 Terms and Conditions
Please read and agree to PRESTIA Online Transactions Terms and Conditions. The Terms and Conditions can also be checked on the SMBC Trust Bank Website.
STEP 5
Register your User ID, Password and E-mail address
Please register your desired User ID, Password and E-mail address. From next time, you will be able to Sign On using this User ID and Password.
Signing On
STEP 1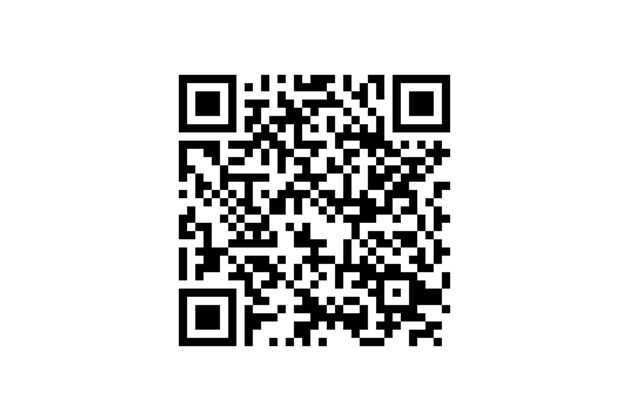 Access PRESTIA Mobile Sign On page.
*

You can sign on using your PRESTIA Online User ID and Password.
STEP 2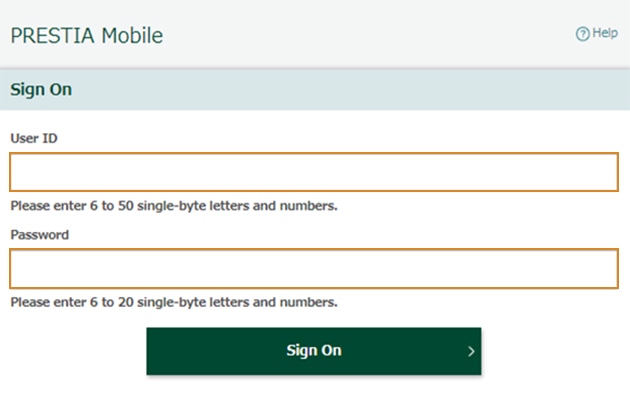 Please enter your registered User ID and Password and press the "Sign On" button to use PRESTIA Mobile.
Points to note:
You can increase the security setting by additionally using the One Time Password (OTP) service when signing on.
Use of PRESTIA Mobile
Some customers may be unable to use certain services or PRESTIA Mobile.
Customers unable to use certain services: Corporate account customers, Non-resident account customers and Customers under the age of 18 years.
Customers unable to use PRESTIA Mobile: Customers with only a Yen Savings account, customers with only a PRESTIA MultiMoney account and customers whose addresses the bank is unable to confirm.
Contact Us
Telephone
PRESTIA Online Helpdesk
0120-410-956Within Japan (toll-free)
24 hours a day, 365 days a year
81-46-401-2106From overseas(toll-charge)
24 hours a day, 365 days a year