Account opening is also available via online for your convenience.
For online account opening, click here.
Welcome to SMBC Trust Bank PRESTIA
The account application is available via 2 different channels.
For First-time Customers: Benefits of opening an account with SMBC Trust Bank PRESTIA
SMBC Trust Bank PRESTIA offers a wide variety of products and services for customers' everyday lives, including GLOBAL PASS, a cash card with a multi-currency Visa debit function offering an easy tap to pay service, online banking with a wide selection of transaction menus, and PRESTIA GOLD that provides preferential services for selected customers. In this and other ways, we support you for a secure, convenient future.
Easy tap to pay service
"GLOBAL PASS®"

Quick online transactions
"Online banking"

"PRESTIA GOLD" services
Special asset management solutions and services.
Via Internet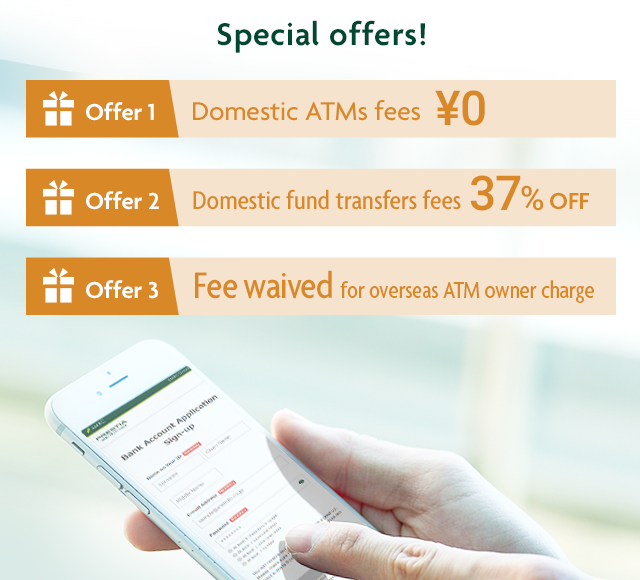 Offer

1
ATMs fees
¥0
Offer

2
Domestic fund
transfers fees
37

%OFF
Opening an account via internet is convenient and good value.
Application of an opening account can be completed online.
We have special offers when you open an account through the Internet.
Offer 1ATMs fees at the other domestic affiliated financial institutions: ¥0
Deposits and withdrawals at Seven Bank ATMs and Japan Post Bank ATMs, and withdrawals at other domestic affiliated financial institutions ATMs can be used free of charge (or fee will be refunded) for 100 times per month.
Offer 2Domestic fund transfers in yen by PRESTIA Online and PRESTIA Mobile fees: 37% OFF
Fees for Domestic fund transfers to other banks by PRESTIA Online and PRESTIA Mobile will be discounted. The above offers are applicable until the month end of the 6th month including the account opening month*.
* Fee waiver for overseas ATM owner charge
In the case where ATM owner fee*1 incurs upon making a cash withdrawal by using GLOBAL PASS® at an overseas ATM, the fee is reimbursed for up to 100 times*2 per month, depending on the balance*3 of the bank account from which the cash was withdrawn.
*1

The prescribed TTB rate on the withdrawal date is used upon calculating the yen equivalent amount of the foreign currency balance and the fee.

*2

The count of reimbursements is calculated respectively for each individual account.

*3

For the fee to be reimbursed, the balance of 5,000 yen or higher, in case of yen savings account, or the equivalent*1 in foreign currency, in case of PRESTIA Multi Money account, is required at the time of the withdrawal.
*

The account opening month is the month to which the account opening date belongs. In the case such as when you apply at the end of the month, the account opening month may be the next month. For the opening date of your account, please inquire after your account is opened.
At a Branch

You can get to know your account number on the day.
*

Please note that you may not be able to open an account on the day of application due to congestion at the branch. Thank you for your patience and understanding.

*

A cash card will be sent by simplified registered mail (transfer prohibited), approximately in about 5 business days from the date of account opening.