Yen Savings Account (account number : 7 digits)
For day-to-day deposits and withdrawals
For receiving salaries and pension payments
Automatic withdrawal for utilities, credit card bills and insurance premiums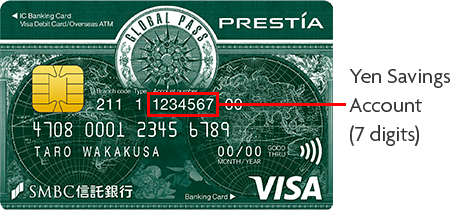 Currency

Yen

Cashless Shopping

Deposit/Withdrawal
PRESTIA MultiMoney Account (account number : 8 digits)
(For asset management and to deposit foreign currencies for use abroad)
Customers performing foreign currency deposit transactions for the first time (including receiving transfers in foreign currency) will be required to submit a PRESTIA MultiMoney Foreign Currency Savings Deposit application.
Applicable Currencies

Cashless Shopping

Deposit/Withdrawal

Overseas remittance
At SMBC Trust Bank PRESTIA, we use profiling (a series of questions related to asset management) to understand the amount of risk you are able to accept. The answers received in profiling, and the risk acceptable to the customer, are expressed numerically as a "customer risk tolerance (risk score)". Please be aware that investment in a product is not possible if the customer risk score is below the product risk level. Please note that the risk score is valid for 1 year from the obtained date.
Bank Statement
SMBC Trust Bank PRESTIA does not issue a bankbook for your account. You can view bank statements on online banking that contain information such as all your account balances, as well as transaction details.
A paper bank statement is sent out regularly to customers who wish to receive it by postal mail.
A separate fee will be charged for the reissuance of a bank statement and for the issuance of a balance certificate. More details
Please refer to the GLOBAL PASS Member's Website for detailed statements of shopping at Visa/iD merchants.
Contact Us
For account holders
Telephone
0120-110-330Within Japan (toll-free)
24 hours a day, 365 days a year
81-46-401-2100From Overseas (charges apply)
24 hours a day, 365 days a year