GLOBAL PASS®
GLOBAL PASS(Multi Currencies Visa Debit with Cash Card)
GLOBAL PASS is a cash card with Visa debit service that can be used in 18 currencies including Japanese yen.
You can use foreign currencies directly from your account.
You can enjoy shopping at stores with Visa logo around the world.
Easy tap to pay service by Visa and iD.
Withdraw local currency from overseas ATMs with Visa or PLUS logo.
Earn cashback or ANA miles by overseas usage.
Family Cards are available.
Two types of cards are available
Free of annual fee. If you already hold suplementary cards, you can apply for family cards with no fee.
*

Fee required for applying for a new Family Card.
GLOBAL PASS
With cashback bonus
Cashback bonus of 0.25 - 1.5% for the amount spent at Visa merchants overseas will be provided in Japanese yen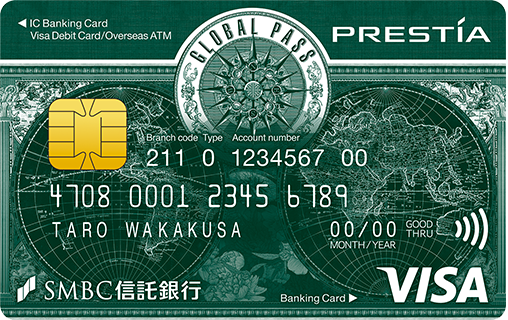 ANA MILEAGE CLUB GLOBAL PASS
With ANA mile benefits
300 miles presented by opening a new account
You can earn miles not only by shopping and ATM transaction abroad but also Yearly increase in foreign currency deposit.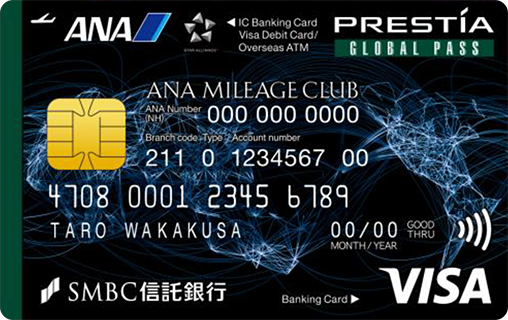 Issuance fee
Main Card : Free
Family Card : 1,100 yen/card (including tax)
*

Switching over from a current supplementary card which was issued by the end of Sep 2019 to Family Card is free of charge.
Validity Period: 5 years
*

A new card will be sent to your registered address before the expiry date.
Personal Identification Number (PIN)
There are three types of PINs used for different purposes.
Domestic Cash Card PIN

Used at domestic ATMs or to shop at J-Debit merchants.

Debit PIN*

Used to shop at Visa/iD merchants and at overseas ATMs

T-PIN

Used for PRESTIA Phone Banking.
*

Please note that your card must be reissued to set a new Debit PIN if you change your Debit PIN, forget your Debit PIN or enter incorrect Debit PIN multiple times. A fee will be charged for reissuance.
In case of switching over the phone
Both PINs are same since the same PIN as "Domestic Cash Card PIN" is set for the "Debit PIN".
Your Debit PIN is not automatically changed even when you change the Domestic Cash Card PIN afterwards.
If you change your Debit PIN after issuance, you will need to reissue it with a fee.
Once the switching procedure is completed over the phone, it will be issued and delivered accordingly.
We will send you a card with the User's Guide enclosed. Please read it carefully.
Please register for the GLOBAL PASS Member Website instructed in the User's Guide.
If you do not plan to use the card, you can lower the usage limit after the registration.
If you select ANA Mileage Club GLOBAL PASS:
If the ANA Mileage Club number you provided was incorrect or if you did not tell us the number at the switching, please link your existing ANA Mileage Club number with the ANA Mileage Club number printed on the card on the ANA website by yourself.
GAIKA FULL BACK
When using GAIKA FULL BACK, conversion into Japanese yen is carried out at a rate obtained by adding the predefined commission fee (3%) to the exchange rate determined by Visa; in principle, the amount will be debited immediately from your Yen Savings account.
You can turn GAIKA FULL BACK "ON" or "OFF".
If GAIKA FULL BACK is "OFF" and your balance of the relevant currency is insufficient, or if GAIKA FULL BACK is "ON" but the balance of your Yen Savings Deposit account is insufficient, you will be unable to shop at Visa merchant stores overseas or withdraw from overseas ATMs.
GAIKA FULL BACK may not be applicable to certain transactions depending on the processing systems used at Visa merchants.
Unavailable transactions
GLOBAL PASS cannot be used for:
Recurring transactions (transactions with scheduled monthly deduction)
e.g. landline and mobile telephone, electricity/gas/water charges, newspaper, Internet provider, flat rate on-demand services, etc.
Transactions where the settlement amount is determined depending on the consumption after the card is presented
e.g. highway tolls, gas stations in Japan, etc.
Offline transactions
e.g. in-flight sales, some taxis and vending machines, etc.
*

In addition to the above, you may be unable to use GLOBAL PASS due to circumstances of individual merchants.
Notes
Any discrepancies between the spending information received from the merchant store where the card was used and the sales confirmation notice sent at a later date by the merchant due to foreign exchange rate differences, etc. will be adjusted through either a deposit or a deduction. In some cases, billing and payment may take place at a later date for the store's reasons.
In the event of cancellation or return, a refund will be provided with the designated method after the spent amount has been deducted from your settlement account. Note that refunds may require some time.
At some merchant stores, transactions in amounts exceeding the settlement account balance may be processed. In such cases, your transaction will be completed, but SMBC Trust Bank will make the payment on your behalf due to insufficient balance in your settlement account, and you will be requested to make a deposit into your settlement account as soon as possible. Please understand in advance that your membership qualification may be cancelled if we are unable to debit for a certain period after the occurrence of insufficient funds.
Make sure to go through your Bank Statements and Usage Statements, and contact PRESTIA Phone Banking if you find any suspicious transactions. You can view your Bank Statements on online banking and your Usage Statements on the GLOBAL PASS Member Website.
By using the card after receiving the card, you agree to the GLOBAL PASS membership agreement spontaneously.