Nurture a Sustainable Future with GLOBAL PASS
When you pay 500,000 yen or more with your GLOBAL PASS in Japan during the program period, you will receive a gift with a Fairtrade certification.
SMBC Trust Bank contributes to the creation of a sustainable society (SDGs) by purchasing Fairtrade products for this program.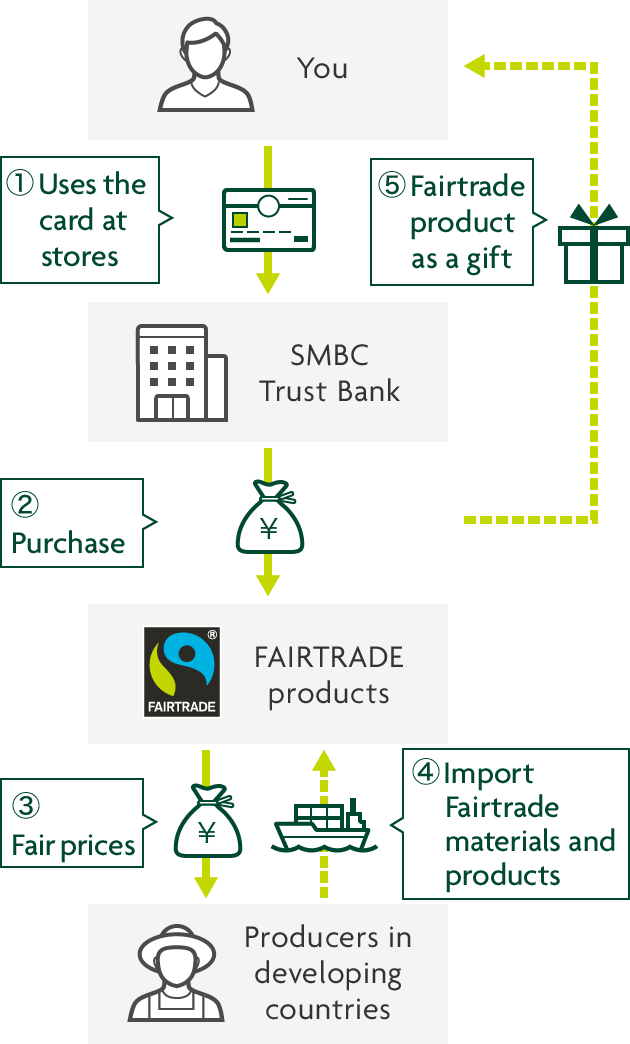 What is FAIRTRADE?
Fairtrade is a "trade system" that improves the lives and independence of producers and workers in developing countries by continuously buying products from Fairtrade producers ,which enables them to obtain fair prices for their crops and have decent working conditions.
*

Fairtrade contributes to sustainable development for certified producers by enabling fairer trading conditions, social change and environmental protection. Please go to FAIRTRADE International's website here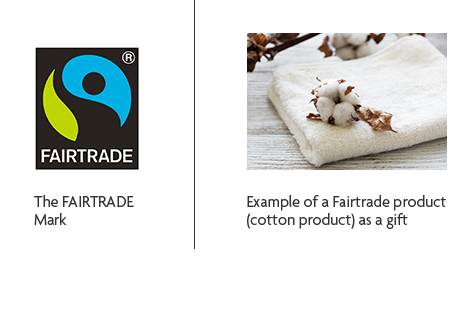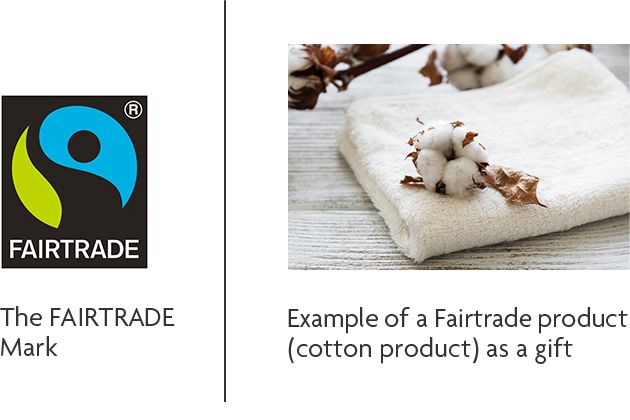 SMBC Trust Bank's Efforts Towards SDGs
The Sustainable Development Goals (SDGs) are global goals under the 2030 Agenda for Sustainable Development, adopted at the September 2015 United Nations Summit. They are comprised of 17 goals aimed at creating a society that leaves no-one behind by 2030.
SMBC Trust Bank utilizes the three functions of "foreign currency", "real estate" and "trusts" to solve social issues and achieve SDGs in our own unique way, in collaboration with SMBC Group companies.
Click here for our initiatives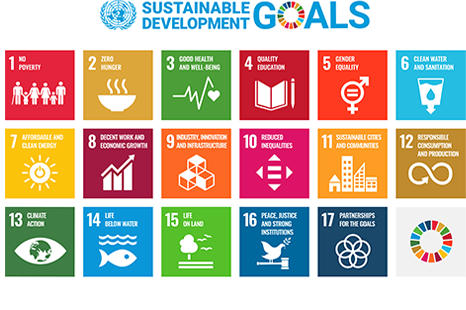 About Program
Program Period

July 1, 2021 (Thu) - March 31, 2022 (Thu)

Eligible Customers

Individual customers residing in Japan who hold a GLOBAL PASS or ANA Mileage Club GLOBAL PASS card (No need to register for participation.)

Eligible Transactions

Payments of 500,000 yen or more in total with your GLOBAL PASS at merchants in Japan during the program period.(Payments using either Visa Debit, iD or J-Debit at stores (including online stores) that use the domestic settlement service)

Gift Details

Based on the amount paid, eligible customers will receive an organic cotton product of Fairtrade certified by FAIRTRADE Label Japan (one of each gift per customer; two gifts maximum).


Gift 1 : Payment of 500,000 yen or more
Gift 2 : Payment of 1 million yen or more

*The contents of each gift will vary. Gifts will be mailed to the eligible customers without prior announcement.
*Customers wishing to decline the gift are kindly asked to contact Inquiries Regarding the Program.

Ineligible Transactions

Payments at merchants that use foreign settlement services, ATM transactions.
(!) Some merchants in Japan may be using foreign settlement services.
(Example) Certain foreign-affiliated food delivery services, online stores, taxi services, hotels/resort facilities, airlines, etc.
(You are eligible for regular cash back/ANA miles benefit when you use your GLOBAL PASS at merchants that use foreign settlement services.)

Method/Timing of Gift Delivery

The gift will be mailed to the primary card holder (party to the contract).
*The timing of delivery will be determined at the bank's discretion. Please note that customers cannot specify the delivery date.
*The gift will not be exchanged, reshipped, shipped overseas nor shipped to any address other than the registered address.
*The gift will be posted into your mailbox. Please note that we do not accept any delivery date requests as the timing of delivery will be determined by the bank's discretion.
Please note : Read the following guidelines.
Notes about this program
As it may take time to complete application procedures for GLOBAL PASS, please apply well in advance. You can apply for GLOBAL PASS via the Internet as well by following a set of simple procedures.
Please note that if any of the following apply to you, the gifts will not be provided:

when you close your PRESTIA account before you receive the gift.
when the total usage amount is less than the designated amount.
*Please note that transactions must be finalized to be eligible for this program, even when the usage amount is deducted from your account instantly.

Please note that family card's spending is added to the main card's spending.
Please check your usage amount on GLOBAL PASS Member's Website (excluding payments using J-Debit).
If you cancel payments or return your purchase, such transactions will not be eligible for this program.
Transactions that SMBC Trust Bank deems to be dishonest are not eligible.
Any outstanding transactions must be redeemed before you receive the gift.
Note that this program may be discontinued or changed (including its content or duration) at any time without prior notice. Also note that similar programs may be held after this one has ended.
This program may not be applicable for various reasons determined by SMBC Trust Bank. We kindly request your understanding in advance.
Notes about using GLOBAL PASS
Only individual customers who are 18 years of age or older can apply (Customers cannot apply for GLOBAL PASS with a business account).
Please make sure to register at the GLOBAL PASS Member's Website before you use GLOBAL PASS so that you can view details of shopping records at stores, etc.
In case of not holding the foreign currency account, you are not able to have a GLOBAL PASS.
GLOBAL PASS cannot be used at some merchants, such as to pay for highway tolls, in-flight sales, gas stations, utility charges (electricity, gas) and mobile phone bills.
For more details regarding GLOBAL PASS, click here.
Company name : SMBC Trust Bank Ltd.
As of July 1st, 2021
Inquiries Regarding the Program
For account holders
Telephone
0120-110-330Within Japan (toll-free)
24 hours a day, 365 days a year
81-46-401-2100From Overseas (toll-charge)
24 hours a day, 365 days a year